How to make a template for an arch or curved window or door
How to make a template for an arch or curved window or door
Templates for an Arch or Curved uPVC Window or Door frame can be supplied to Universal Arches in many formats.
At Universal Arches in St Helens, we have been bending uPVC profile to make arched, circular, curved, gothic, angled and triangular windows for over 20 years. Our regular customers are manufacturers of traditional square or rectangular windows and they rely on Universal Arches to take care of their shaped frames.
Supplying a template to us is straightforward and we can help guide you through the process.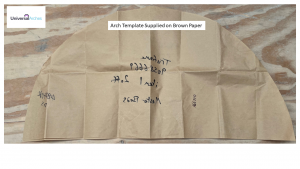 How do I measure for replacement Arched Windows or Doors?
To measure for replacement Arched Windows or Doors, we recommend that you initially draw around the actual shape of the existing frame onto cardboard, paper or directly onto a sheet of MDF.
We would then suggest that you create a master arched template on MDF and keep this yourself until your curved window or arched door frame has been supplied and installed. To speak to a member of our Customer Services Team please call 01744 612844.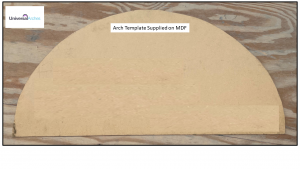 Benefits of an Arched window template on paper
Once you have your MDF template, simply lay this on a sheet of paper and draw around it.  Then, write your name and contact number and any reference on the outside face and post the sheet of paper to Universal Arches.
Posting the paper template to is the fastest and most reliable way, it is also our preferred way of receiving a template. 
Contact details for Universal Arches
Downsides of an MDF or Cardboard Template
If you send your original MDF template to us, there is a small chance it could get damaged in transit and your arched window could be made to an incorrect shape. A cardboard template can get wet in the rain, or there is a chance it can rip.  However, if these are the only way you have of supplying a template, we are always happy to receive them and will always contact you should we have any queries.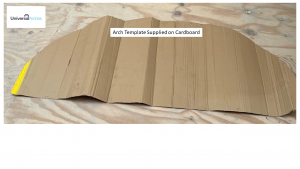 Arched, Angled, Gothic and Circular shaped double-glazed units
At Universal Arches, our experienced CAD designer prepares a CAD drawing for the production team for every single angled window or door frame and for frames with a true radius.
We can supply you with the CAD drawings for those designs so that you can order your own glass, or we can supply you with shaped double-glazed units to fit your door frame or window.
Order form for shaped window and door frames
Our Step-by-step guide demonstrates each of the window designs we can manufacture and will answer many questions you might have. If this is the first time you have ordered a shaped window or door frame, please contact our Customer Services team and we will be very happy to spend time on the telephone and guide you through the completion of our bespoke order form.
We look forward to hearing from you.
Download our bespoke Step-by-Step Guide and Order Form
Call Universal Arches on 01744 612844.