Angled Frames
Universal Arches manufacture angled frames, also known as a gable end, using a wide range of uPVC profiles. Our experienced team of fabricators will take the greatest care to manufacture a perfect angled window using state-of-the art machinery combined with years of experience.
The benefits of using uPVC profile supplied by customers
Many of our customers are manufacturers of square or rectangular uPVC windows and doors themselves. When they receive an order for a window or door frame which is angled, curved, arched, circular or a gothic shape, they rely on Universal Arches to produce a perfect shaped frame on their behalf.
We either manufacture our angled windows using our own stock of uPVC profile, or if our customers are in need of a specific profile so that the angled frame matches existing doors or windows within the home, we can also manufacture angled windows using uPVC profile supplied by our customers. Universal Arches are happy to accept delivery of our customers' profile, or we can collect profile within 50 miles of St Helens.
How to order an angled window from Universal Arches
If you have asked Universal Arches to manufacture an angled window in the past, you will be familiar with our ordering system, which is straightforward.  
If this is the first time you have ordered an angled or gable end window, please contact contact our Customer Services team and we will be very happy to spend time on the telephone and guide you through the completion of our bespoke order form.
uPVC is a sustainable choice 
If you are a homeowner with a picturesque view to enjoy and have a desire to give your home that Wow factor, have you considered an angled or triangular window frame? Choosing the style and shape of window for your home is an opportunity to reflect the architectural style of your property as well as being a chance to express your personality. Whether your home has a contemporary or traditional design, an angled window can add to the overall aesthetic appeal. At Universal Arches, we manufacture a wide range of shaped window frames, such as Angled frames also referred to as a Triangular Window, Raked Window, or a Gable End.
For projects where you'd like the aesthetics of a wooden window, without the regular maintenance that wood needs, our uPVC authentic woodgrain effect finish in a wide range of colours might be the ideal solution. uPVC Windows are easy to maintain as well as being secure and stylish. We manufacture bespoke Gable End window frames in a wide range of colours, including White, Cream, Light Grey, Anthracite Grey, Light Oak, Chartwell Green and Black. We can also offer one colour inside your home, with a different colour outside.
uPVC's long lifespan, low maintenance, and potential for high-quality reuse make it one of the most sustainable products currently available in the building and home improvement market. Find out more.
For deliveries within a 50 mile radius of our manufacturing facility in St Helens, we can supply angled double glazed units.  For deliveries outside of this area, we can provide you with glass sizes for you to source your own glazing.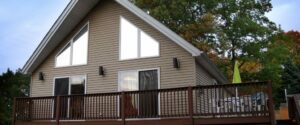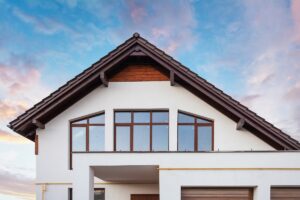 Universal Arches manufactures shaped window frames and doors in a wide range of uPVC colours and finishes. For more information contact our customer services team on 01744 612844 or email chat-to-us@universalarches.com