Universally shaping the colourful future of windows and doors
Arched, angled, circular and gothic shaped windows and doors are becoming increasingly popular and so is colour.
Most uPVC fabricators are being asked for frames in colour, often to match Farrow and Ball paints for example. Holding stock of uPVC profile is sadly a necessary evil for manufacturers, it ties up cash and inevitably leads to high waste levels because stock on the shelf gets damaged. To cope with demand for colours, many fabricators hold up to 20 different finishes, which is fine if the stock turns fast, but that is seldom the case. It's all too easy to lose margin on what should be a premium sale.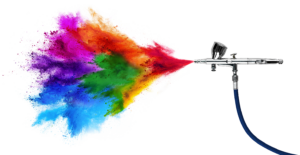 GET IN TOUCH WITH UNIVERSAL ARCHES
Ordering a range of special finishes from uPVC systems companies is possible but it comes with significant lead-time delay and there is no guarantee that trims will be available in the same finish, which causes problems for installers. And what do fabricators do with the offcuts?
Who offers paint spraying for windows and doors?
Universal Arches has decided to offer in-house paint spraying. Not only for their legendary arches, angles, circles and gothic but for almost any window and door or trim that their customers would like sprayed. This new facility also reduces lead time by weeks in some cases and Universal can collect your frames when they collect and deliver your profile and arches.
Having the right paint equipment is one thing, but the real secret to creating a beautiful guaranteed finish is having highly skilled, time-served 'craftsman' painters. Universal have a team of two guys that they believe are the best in the business. They have over 30 years experience between them, spraying products like aluminium, timber and uPVC windows, doors, kitchens and furniture. Contact Universal Arches to discuss your project
Who can paint a window or door frame in a Farrow and Ball or RAL colour? 
Having made that investment in people and kit, Universal can now offer a choice of almost any RAL or Farrow and Ball colour, with a lead time of just 10 days from receipt of the product at the St.Helens facility. They can even replicate the textured matt sparkle finishes that are popular on aluminium windows and doors.  Other finishes include: matt, gloss or textured and all paint finishes are incredibly durable, guaranteed for 10 years.
Window and Door Installers are sometimes reluctant to recommend a coloured door or window to their clients because of the lengthy delays, high costs and lack of matching trims but Universal Arches has solved those problems.
Using an in-house delivery fleet, Universal Arches collect your lengths of aluminium or uPVC profile and create bespoke shaped frames suitable for your project, painted in any colour or finish and deliver the finished product in just 10 working days. Or they will paint fully finished product and trims. Every job comes with touch-up paint too. Contact Catherine at Universal Arches
Ken Gray, Managing Director at Universal Arches says: "Our customers are mainly manufacturers of doors and windows and they are delighted that we offer a really fast turnaround on bending frames to whatever shape is requested and also provide a fabulous paint finish so quickly."
Universal Arches was established in 1996 and is the leading UK expert in the uPVC arching and bending Industry. Quality and customer service are paramount and great pride is taken in providing a higher level of very personal service than other bending companies.
Thanks to state-of-the-art CAD machines and a highly experienced CAD Technician, Universal Arches also supply shaped double-glazed units, or glass sizes if you prefer to source the glass yourself.
Please call 01744 612844 and speak to Catherine Smith, our Sales Office Manager, for more information. We look forward to hearing from you.