Investment in new uPVC bending machinery
Universal Arches in St Helens has always been a forward-thinking company, willing to invest in training employees and in new machinery to help improve efficiency and the quality of our arched windows and doors. In July 2021, we became the first company in our specific market in the UK to invest in a state-of-the-art TIM-ING Bending Machine.
We have always focused on the quality of our arched frames, and our Quality Control Team use the ISO standard to monitor the quality of the uPVC Profile Bending process daily from start to finish. Our customers are manufacturers of uPVC Windows and Doors who recognise that bending uPVC profile is a specialist profession and they ask Universal Arches to bend profile to the shape of their arched, curved or circular templates.
Now that we have purchased the most advanced bending machine for uPVC profiles in the world, we are even more confident that we will be able to supply our customers with zero deficiencies in the arched profile quality. The TIM-ING machine can bend profile without a join from one end of the frame to the other. With our new machinery, we will be able to guarantee absolute symmetry between the left and right side of the arched window or arched door frame.  
The new bending machine is capable of bending uPVC profile to create a perfect arched window or arched door frame at a tight radius in just seven minutes. We work to very high standards and believe that a tidy factory helps create a tidy mind, so we have recently completed our annual painting of the floors within the factory, ready for our new machine to take pride of place.
Our fabricators are undergoing an extensive training plan so that we are all fully conversant with all the features of the machinery and are confident that in just a few months' time, we will be able to reduce our lead times, whilst maintaining our high levels of quality.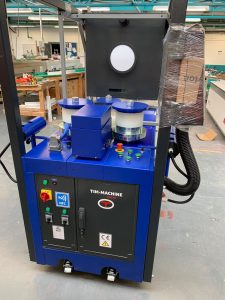 If you are a manufacturer of uPVC Windows and Doors and are in need of arched, circular, curved or angled windows or door frames, please get in touch with us on 01744 612844 or contact us here.