uPVC Arched Windows
Universal Arches manufacture bespoke uPVC Arched Windows. Each arched frame is welded and hand polished, resulting in joints with a perfect finish.

What colours are uPVC Arched Windows available in?
At Universal Arches, we offer the choice of either a smooth finish or an authentic woodgrain finish in the following colours:
White
Cream
Light Grey
Anthracite Grey
Light Oak
Chartwell Green
Black
We can also offer one colour inside your home, with a different colour outside.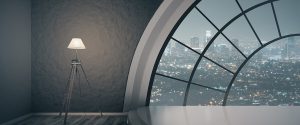 Bespoke uPVC Arched Windows
Each of our Arched windows are made to bespoke dimensions, starting with a minimum radius of 190mm. We use in-house CAD drawings to calculate the radius of the arched frame and to provide exact glass dimensions. uPVC Arched windows add character and personality to your home and there are many companies who specialise in making curtains and blinds to complement this design.

Benefits of uPVC Arched Windows
Arched windows are easy to maintain. They are durable and offer excellent weathering properties to keep your home warm and dry.
Universal Arches manufacture shaped uPVC window frames and doors in a wide range of colours and finishes. For more information contact our customer services team on 01744 612844 or email chat-to-us@universalarches.com