Shutters for unusual shaped windows
Windows and Doors are becoming more a part of the furniture when re-designing our homes. There is now an almost endless choice of colour for windows and doors, giving home-owners the opportunity to express their individuality and make a real statement in their homes.
Architects often specify shaped door and window frames when designing home extensions or new builds. An Angled window frame above a door creates a dramatic entrance to a contemporary home and arched window frames above front doors have been popular in traditional homes for many years, allowing natural light into the hallway. In a large hallway, there might not be a need to dress your windows with curtains or blinds, but in a bedroom, living area or bathroom with shaped window frames, having blinds to close in the evening to retain heat and for a cosy feeling, or simply to ensure privacy is often desirable.
How to dress Arched windows
It can be difficult to dress an arched window with curtains and still enjoy seeing the contours of the arch, whereas wooden or vinyl shutters can be custom-made to fit perfectly and enhance shaped windows. Shutters are a tasteful way to dress your windows and shaped door frames whilst enhancing the curves and shapes. They can be made to bespoke sizes, with the top and bottom half of shutters operating independently of each other. If privacy is required, just one section of the shutters can be closed, whilst still allowing plenty of light into your home or office through the open shutters.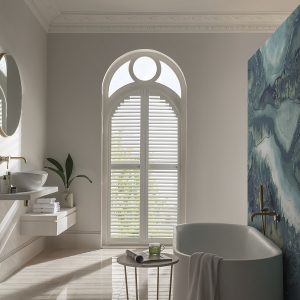 Bespoke shutters for Angled Windows
Some angled windows finish at quite a point, depending on their shape and size. For these designs, an option is to design a fixed blind for the angled point; a blind which will either remain open or closed at all times. If this is a tall window, maybe at the top of a stairwell, or in a double-height room, this can be left in an open position to allow in plenty of light, without affecting privacy.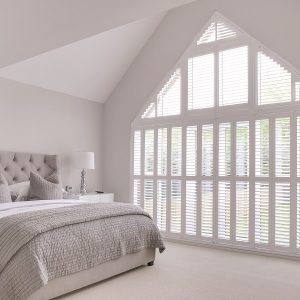 Window dressing for Circular Windows
Circular windows add a lot of character and interest to a building aesthetics. The temptation might be to fit regular shaped curtains or blinds, so that when they are closed the detail of the shape is hidden. However, if shutters complement the décor within the room, they are perfect as they can be made to fit the contours of the circle perfectly.
Can you have window shutters in a bathroom or kitchen?
The answer is "Yes you can".  Whilst the atmosphere in a bathroom or kitchen can become quite humid and steamy from time to time, the beauty of installing Vinyl shutters is that they are waterproof.  Vinyl shutters can also be wiped clean, helping to maintain high levels of hygiene. Hillarys offer a range of Waterberry Vinyl shutters which are a beautiful waterproof alternative to wooden shutters, designed with bathrooms and kitchens in mind.
In bathrooms which are not overlooked, an alternative to fitting obscured glass would be to have blinds fitted, allowing a certain level of privacy, whilst also allowing natural light into the room. This would apply to regular shaped windows, or windows with arched, circular or angled window frames.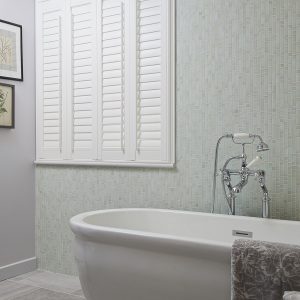 What colour are plantation shutters available in?
Whilst many home-owners choose to fit plantation shutters in neutral shades in their homes, there are a wide range of colours to choose from, such as Cream, Silver, Grey, Pink, Purple, Green and Blue, to name just a few. Some companies offer a custom-colour paint finish to complement the décor of the room.
Where can I buy shaped windows and door frames?
Universal Arches manufacture shaped uPVC windows and door frames in bespoke sizes in a wide range of colours and finishes. The joints are welded and hand-polished, resulting in a perfect finish. Modern, shaped windows offer the same level of thermal efficiency as a square or rectangular window, to keep your home warm, so there is no need to compromise on design.
If you're looking for shaped Aluminium windows or doors, Stag Aluminium can advise on the most suitable glazing solution, with a wide range of RAL colours and finishes available.
To find out more about having bespoke shaped windows in your home or project, contact Universal Arches on 01744 612844 or email chat-to-us@universalarches.com

D Shaped frames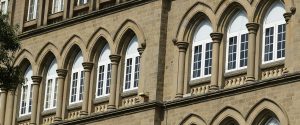 Gothic Frames