Shaping the future
St.Helens is the centre of the UK universe for uPVC profile bending. Over the last 30 years, Universal Arches has been the constant force; the largest manufacturer and probably the best-known specialist trade supplier in the sector. 
Specialists in uPVC profile bending
Very little has really changed with regards to uPVC bending over the last 30 years and it is still viewed as a 'dark art' by many. The process of bending uPVC by hand is extremely labour intensive as many fabrication processes are accomplished by eye and touch. Automated bending machines are available but for a company like Universal Arches, which bends profiles from over 30 different uPVC systems, it is very difficult to make a financial case for investing in automation. Not only is the return on investment on tooling for every system difficult to justify because it is a niche business, but when systems houses change their designs, expensive tooling can become obsolete overnight.
Therefore, a major challenge for Universal Arches is training, developing and retaining staff. Many of the bending companies in St.Helens are offshoots of Universal Arches, as ex-employees have started-up small workshops to supply frames. Unlike fabricating a uPVC window, which almost anyone can learn quickly, profile bending is almost an art form, mastered by very few people. 'Fabricating Benders' as they are known in the trade, are very sought-after people, who have usually undergone at least 2-3 years training to get an acceptable level of competence. Therefore, retaining these individuals in the business is critical.
Now under Kaliber Group ownership, in early 2020, the Universal Arches management team led by Paul Hands undertook an exhaustive 360 degree review of customer needs and internal business processes. Paul and his team concluded that they should work with fewer customers, introduce lean manufacturing processes and really focus on developing people at all levels in the business. Find out more about Universal Arches
Selecting a group of premium customers to work with was the easy part, because Universal Arches is lucky to be trusted by most of the highly respected, premium quality trade brands in the industry, companies like Emplas, Heritage Trade Frames, Truframe and Solidor.
Lean Process Improvement
The next two steps were to implement Lean Process Improvements throughout the business and then introduce a new company-wide IT platform.
By the end of 2020 and despite having to deal with a record high order book, the shop floor was revolutionised. Paul and his production leadership team worked intensively all year with an external consultant and between them they stripped back 30 years of working practices, layouts and procedures, re-shaped them and managed to get the buy-in of the production and despatch teams. This process was not without its challenges because human beings resist change, some people couldn't cope and voted with their feet, but on reflection, it was a price worth paying for the huge progress made.  
The results of this highly intensive year-long project, have been astonishing so far. Quality of frame, measured daily, is at an all-time high, lead times are short and stable, plus output has increased by just over 20% with 12.5 % less staff. Correspondingly, profitability has improved markedly and the production team have benefitted directly, as they now enjoy the highest rates of pay in the sector.
The next team initiative is to identify an IT system that will allow customers to quote and order on-line and the search for that solution continues. Looking back on the last 12 months, they were extremely demanding for the whole company during the busiest ever year, but the step-change has been worth it as the company is now in great shape. The future strategy for Universal Arches is to stay niche, not chase growth, maintain existing sales to a premium trade customer base, drive efficiency and be recognised as the very best in the industry.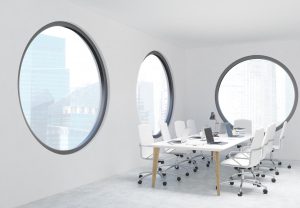 Contact Universal Arches to discuss your project