Arched uPVC frames for interesting projects
Arched windows and door frames for Garden Rooms
As we continue to work from home, many people are keen to find ways to increase the living space within their home and gardens, to provide an area for an office space. A bespoke garden room with plenty of natural daylight could be a solution. As well as enabling you to make the most of your outdoor area, it can also increase the value of your home.
Bespoke Garden Rooms
Garden Rooms are becoming increasingly popular and there are a number of companies who manufacture outdoor spaces in a wide range of shapes and sizes, using a variety of materials, with some incorporating shaped uPVC windows and doors. Ask Universal Arches about bespoke shaped doors for your garden room.
Floor to ceiling windows and doors for your garden office
Floor to ceiling windows and double doors with interesting shapes such as an arched or angled frames add interest to the design. Depending on whether your garden room is located in a shaded part of the garden or in a sunny spot will determine how much natural light will enter the space. Universal Arches bend eco-friendly uPVC profile to create beautiful arched door frames on behalf of Skypod who then recycle original aircraft fuselage to create fabulous pods which are used as garden rooms, offices, gyms and meeting rooms. 
Round or Circular uPVC windows for your garden room
A round or Porthole window in a garden room can be installed at a normal window height, to make the most of the view, or for added privacy they also look good positioned higher up the building to allow natural light into the room, without being overlooked. If you are a manufacturer or uPVC windows and are looking for a company to bend frames to create circular, arched, angled or gothic frame, get in touch with Universal Arches on 01744 612844.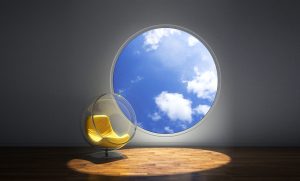 Benefits of arched or curved uPVC windows in garden offices
One of the benefits of uPVC arched or curved windows for use in garden offices is that uPVC is a sustainable material which can be recycled at the end of its life. The windows are fitted with energy efficient double glazing and multi-point locks and locking handles, ensuring that your garden office remains secure.
Whilst White, Anthracite Grey and Black are the most popular colours, you can choose from a wide range of colours with a woodgrain effect.  Another benefit of choosing uPVC windows is that they require very little maintenance, they just need to be kept clean by using warm soapy water and making sure the hinges remain free of any dust or dirt. Contact Universal Arches
Unique, Cool and Quirky Garden Offices with curved door frames
Whilst a Skypod garden room can be used as an office by day, it could also double as a Summerhouse, Gym or Craft Room in the evening and during the weekends.
So, when considering the design of your garden office, why not take a look at the more unique designs available.  
Sky Pods are constructed from genuine aircraft fuselage, the central portion of the body of an aeroplane. Completed to a high standard, they  are supplied fully insulated, with electrical power, lighting and sturdy flooring. They have many uses, such as a garden office, gym, games room, garden bar or Glamping Pods and are also used within organisations for corporate hospitality with a difference, they certainly make a good talking point.
The outside of the Sky Pod is wrapped in a hard-wearing vinyl, as shown below, with a wide range of colours to choose from, which can incorporate company logos and product images. Following the natural curves of the body of the aeroplane, Sky Pods are supplied with a set of uPVC double doors manufactured by Universal Arches in St Helens, with an arched shape to the head of the doors and an arched glazed side panel either side of the doors. Some designs feature double doors with a rectangular frame, allowing for a shaped fanlight above the doors to make the most of the full height of the Pod.
Clear toughened safety glass is perfect for allowing plenty of natural daylight into these unique garden rooms, but if preferred, there is a wide range of glazing options to choose from, such as obscured glass, mirrored glass where you can see out, but people cannot see in and Smart glass which instantly switches between frosted and clear, for privacy when it is needed.
Universal Arches specialises in manufacturing shaped uPVC windows and door frames and was asked by Sky Pods to manufacture their bespoke shaped frames. Contact Universal Arches for more information.