Barry Forshaw – Fabricator
When Barry Forshaw started working at Universal Arches in 2014, he first trained to manufacture bespoke uPVC Circular window frames, working in the Bending Room. Once he had mastered the techniques involved in Circular frames, Barry progressed to shaping D frames, followed by Angled door and windows frames and now works in the main Fabrication room. It takes an average of at least two years to master the art of shaping uPVC frames.
Barry now manufactures a wide range of bespoke uPVC shaped frames, including combination door frames, Vertical Sliders and Gable Ends.
Barry said "No two days are the same at Universal Arches. I take great pride in creating shaped frames knowing they will be fitted into someone's home to be admired for several years".
Paul Hands, Business Unit Manager said "Since Barry has been working at Universal Arches Ltd, we have been very impressed with his commitment and dedication to the business, he has developed into a master fabricator and a very reliable member of the team. Barry has a glowing personality and is liked by all who meet him. We are very pleased to have Barry working at Universal Arches Ltd and see great things to come from him in the future.''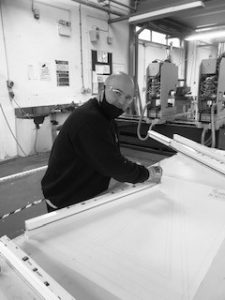 To discuss your shaped frame requirements with a member of our Customer Service team, please Contact – Universal Arches or call 01744 612844.