How to brighten a dark hallway
There are a few ways to make a hallway appear brighter, such as adding a shaped fanlight or toplight with glass above your front door, adding glazed side panels to either side of your door, painting the walls in a light colour, hanging a mirror on the wall to reflect light or including glazing within the design of your front door.
Shaped fanlights above a front door
Fanlights or toplights above a front door have been popular for many years, allowing plenty of natural light to flood into what could otherwise be a dark hallway.  At Universal Arches, we specialise in manufacturing shaped uPVC door and window frames and can create an angled shaped frame to form a triangular window above a door, an arch, D-shape, circular frame or a gothic shaped frame, all made to bespoke dimensions for your individual project.
Can you see through obscured glass in a front door?
Choosing a composite front door design for your home is such a personal choice and there are so many fabulous designs to choose from, including designs with glass in the door itself. Obscured glass within the door will offer more privacy than a clear glass design and if you also have an angled or shaped fanlight above the door, that will ensure your hallway is a bright and airy space. Get in touch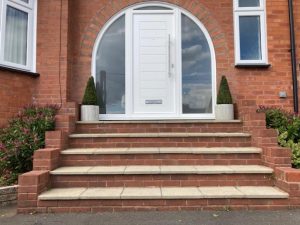 What is a popular colour for a front door?
At Universal Arches, we can manufacture uPVC door frames with shaped fanlights in a wide range of colours, to match the front door or to contrast in colour. Popular colours currently include Anthracite Grey, Black and White, whilst Pink doors are making quite an entrance at the moment.  Every shaped door frame we manufacture is made to bespoke dimensions to suit your home or project. We can also supply a glass template to make sure the shaped glass fits perfectly within your frame.
If you choose a front door with a wood effect finish, we can manufacture a door frame from profile with an authentic woodgrain effect, which from a distance can look like timber. One of the benefits of a uPVC door frame is that it requires very little maintenance, just a wipe with a soapy cloth from time to time to keep the door looking good is all that is needed.
If you are a manufacturer of uPVC doors and windows and are in need of a shaped frame, please get in touch. We manufacture shaped frames using our own stock of profile or we are happy for you to supply your own profile for us to bend. Universal Arches delivers all shaped door and window frames free of charge within a 50 mile radius of St Helens. We shape frames to make gable end windows, angular windows, arched windows, gothic shaped frames, circular windows and shaped door frames.